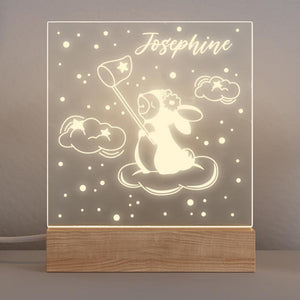 Let the calming warmth of your love fill your child's room every time they switch this light on. This night light is not just a charming piece of decor that will illuminate their room but will also create a magical, ambient space where they can dream, wonder, and make memories.
Infuse a bit of your child's personality into their room decor with our wonderful design options

The soft white glow of the lamp lights up the room just enough for your sweet little child to fall asleep easily

Makes a wonderful gift that will keep your child feeling protected and loved

Your child deserves only the best things in life. That's why each lamp is carefully created with love and utmost care

Not just for little kids - personalize our night lights with your name and fill your home with child-like wonder and excitement
Main Features:
Minimalist and tasteful design
Crystal clear lamp with flawless laser engraving
Artistic design with your name
Lamp Size: Measures 6" x 6"
Environment friendly and energy saving

Can be used on a night table, desk, dresser, or table 
USB connection (adapter not included)
Please note that EMOJI in the custom text is not allowed in our system and will be deleted directly.
How To Order
1. Enter the name;
2. Click "Add to Cart";
3. Enter shipping and billing information. Done!
When ordering more than 1 product, please follow the steps below:

1. Add the first product to the cart;
2. Go back to the page of the product;
3. Add the second product to the cart and enter the shipping information.